Are you worried about the devastating impacts of floods and water on your property? If you are stressed about restoring your property after a flood or water damage has stuck them, then worry no more as we at GSB Flood Master can be your reliable service provider for all water and flood damage restoration in Midland. Damages caused by water and floods can ruin your entire property so much so that it may take days to restore the damages. These damages can be a result of burst pipes, leakages in the roofs, floods, continuous rains, sewage spills, and so many more. In scenarios like this, it is crucial to get the water accumulated completely removed and extracted.
Our professionals are IICRC-certified; thus, you do not have to worry about efficient work. With years of experience in the field, we know how difficult it is to deal with the effects of floodwater and any such damage. Thus, we provide you with hassle-free solutions at a reasonable price and ensure that all the processes take place efficiently and swiftly. Thus if you have any such need, then you may easily rely on our services.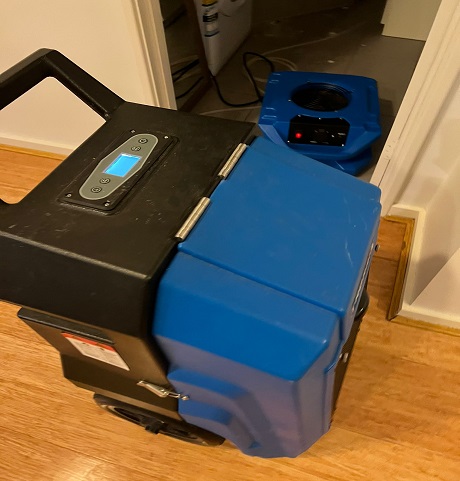 The Services That We Provide
We provide all services related to water and flood damage and ensure that you get optimum solutions for the same. Some of the services that we provide are as mentioned below:
We would provide efficient water extraction and dehumidification of the affected area.
We will help in cleaning and drying your carpets efficiently and with safe products.
We will help in locating, identifying, and removing moulds from all visible and hidden places.
We will ensure deep-cleaning of your property using advanced equipment and cutting-edge technology
We will provide guttering and drainage clean-up services.
We will also help in removing sewage spills.
We provide sanitisation and disinfection services.
We provide an abrasive and immersive method of cleaning the affected property for both dry and wet clean-up.
We clean the underlay, rugs and upholstery along with carpets.
We also ensure proper restoration of property after such damages strike your house or workplace.
What Steps Do We Follow For Water And Flood Damage Restoration Service?
We follow a systematic and customer-friendly approach for all our services and guarantee you that these will be absolutely hassle-free. We mention below the steps that we follow to provide you with effective and swift services:
First and foremost, in situations like these, you may always call our emergency numbers, and we assure you to we provide prompt response and swift service.
On receiving a call from any grievance site, we reach the area as soon as possible, primarily within 30 minutes.
Next, we inspect the area properly for all probable damages and categorise them into four different categories depending on their severity, where level 1 is minor damages. In contrast, level 4 is a more significant issue.
Next, when our estimation and your budget match, we start with water extraction so that there is no further loss caused to the property.
After efficient extraction, we ensure that no moisture is left behind, for which we conduct dehumidification of the place, using professional equipment like a dehumidifier and air mover for optimum result.
Next, we also look for any visible or hidden mould growth and then remove them efficiently.
Next, we clean the area using abrasive and extensive cleaning techniques.
We simultaneously sanitise the area for the health and safety of the people.
We then help in removing the foul smell due to the prolonged presence of moisture in the air by spraying deodorisers.
Finally, we provide reliable and efficient restoration service for the damaged property, and this can include minor repairs or extensive work.
What Other Services Do We Provide?
Not just water and flood restoration, we also provide other services that will help you to maintain your property better. These services include:
water extraction and repair
carpet and underlay drying
structural dehumidification
sub-floor, wood and hard-floor drying
mould inspection and remediation
deodorising and disinfection
sewage clean-up
blower and equipment rental
emergency responses
insurance assessment reports
multi-storey building flood service
Apart from these, if you need any additional cleaning services, then you can also customise your package, and our reliable and expert team of technicians will ensure timely and efficient service.
Why Choose Us For Water And Flood Damage Restoration?
Choosing us over the vast options that you have for service providers for your cleaning needs requires some great reasons, and thus, let us help you decide on that with the below-mentioned reasons:
We have technicians who are IICRC-certified and will thus, offer the best services.
Our experienced professionals are specially trained and highly skilled to provide you with overall customer satisfaction.
We always want to provide the best to our customers and that is why we use advanced technologies and high-quality products.
We understand the needs of the different households may vary depending on the damages that they have suffered, and thus, we provide customised packages according to the customer's requirement.
These occurrences can happen anytime, and that is why we provide emergency services in case of any immediate needs, and our emergency services are available 24*7, all days of the year.
We understand the plight that you have to face in these situations of distress and thus ensure prompt response and swift service.
One of the biggest concerns of hiring professionals is the safety issue, so we take care of that and assure you that all our professionals are vetted, and their backgrounds are thoroughly checked.
GSB Flood Master can be your one-stop solution for all cleaning issues due to any natural or man-made disasters. With our reliable services, you will have the best water and flood damage restoration in Midland. The primary aim of our company is to provide maximum satisfaction to our customers, and we provide all our services at a reasonable price.