In all multi-story buildings across the world, the lowest part of the building lies under the elevator and the escalators. This is because all supporting engineered systems sit above a pit of sorts, and as elevators move to and fro from the basement to the highest floors, the elevator pit becomes the biggest area of concern in the event of extensive rains or flooding.
This adds more risk to the elevator and escalator components as flood water can often damage the electrical systems beyond a point of repair. Hence, it is imperative for you to keep a check on floods under elevators and escalators in your building.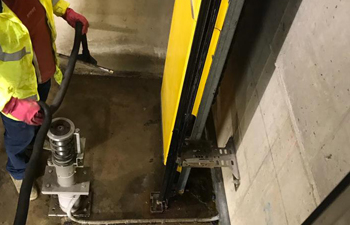 How can you keep a check on flood under elevators and escalators?
Pit flood alarm systems are the best bet for keeping a check on any kind of instance of flood under elevators and escalators. These systems are extremely adjustable and have a self-triggering alarm bell in the case of any flooding.
However, it is noteworthy that such systems only work in the case of a pipe leakage or clogged drain. In most cases of catastrophic flooding where electricity is cut for large periods of time, such systems are usually pointless.
What should you do in the case of flooding under elevators and escalators?
Evacuate those in distress, including young children, the elderly and the disabled
Evacuate as soon as you are told to do so
Use the elevator only if there is no standing water in the pit. It is a bad idea to ride the elevator with a flooded pit
Turn off all power from the elevator systems which are not in use
Don't venture near submerged power lines
Immediately contact our 24/7 emergency response number
Flood Under Elevator & Escalators Service in Perth
Flood Under Elevator & Escalators Service in Bunbury
Flood Under Elevator & Escalators Service in Albany
Flood Under Elevator & Escalators Service in Denmark
Flood Under Elevator & Escalators Service in Kalgoorlie
Flood Under Elevator & Escalators Service in Mandurah
Flood Under Elevator & Escalators Service in Esperance
Flood Under Elevator & Escalators Service in Margaret River
Flood Under Elevator & Escalators Service in Busselton