Structural damage is a type of damage that has a direct relation to the core components of a building. Structural damages occur on the load-bearing walls and the overhead roof of the construction.
Extreme winds and floods are two of the leading causes of structural damages, and more often than not, any kind of water damage often leads to this issue. This can cause internal rusting of parts, weakened weight-bearing capacity and can also cause the structure to buckle due to increased stress. To avoid such instances of grave effects, it is advisable that you go for structural dehumidification & drying after any instance of water damage.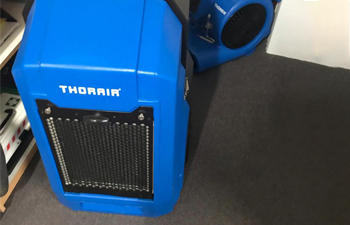 What is the difference between dehumidification and drying?
Drying is the process of extracting water from any kind of material. This is usually applicable to standing water.
Dehumidification is the process of extracting any kind of moisture in the air. This is applicable to droplets of water that are not necessarily removed in the drying process.
Both of these processes are separate tasks, and one does not supersede the other in terms of importance. But usually, drying is followed by dehumidification to ensure total water removal in any kind of water damage restoration process.
Instead of opting for this structural dehumidification & drying, can you wait for the structure to dry out on its own?
We hear this argument put out a lot, and one can understand a few reasons for it. But here is our short and simple take on it:
You should not wait for a structure to dry out on its own period.
This is because the more time a structure takes to dry, the more structural deterioration takes place: rusting accelerates in this time and the load-bearing walls can also rupture due to failure.
In hindsight, the speed at which the structure is dried and dehumidified is vital to ensure minimal loss to the structure and its strength. Hence, what might be seen as a cost-saving option may lead to an even bigger risk of losing more money to structural repair. Thus, it is of vital importance that you reach out to us in case of any water damage to treat and safely repair any damage to the structure.
Structural Dehumidification & Drying Service in Perth
Structural Dehumidification & Drying Service in Bunbury
Structural Dehumidification & Drying Service in Albany
Structural Dehumidification & Drying Service in Denmark
Structural Dehumidification & Drying Service in Kalgoorlie
Structural Dehumidification & Drying Service in Mandurah
Structural Dehumidification & Drying Service in Esperance
Structural Dehumidification & Drying Service in Margaret River
Structural Dehumidification & Drying Service in Busselton