Sewage spills are not to be taken lightly. Tainted water like sewage is the home of countless bacteria and fungi that can make anyone seriously ill. So, finding a sewage overflow in your business establishment or home should raise an alarm bell for you. Our expert technicians cater to all kinds of sewage clean-up problems and work with an emergency mobile unit that is available to you 365 days of the year, 24/7.
The reality is that sewage spills are one of the most common kinds of issues that require quick restoration services. Our team, being IICRC certified, works in tandem with your insurance providers to aid in quick treatment and repair to ensure the health of your loved ones.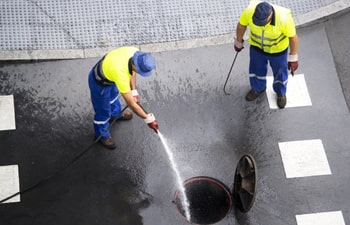 When should you seek professional help for sewage clean-up?
Sometimes, small sewage spills are only limited to small overflows in the bathrooms or kitchens. But more often than not, sewage clean-ups are required for bigger issues.
Hence, you know this is the time to seek professional help if:
A spill is caused by flood damage
There is an overflow in more than one area of the home/office
The sewage spill is a day old and still persists
Overflow is caused by a septic tank itself
Why do sewage spills happen?
To explain it simply, sewage overflows occur when the sewage from your home does not flow into the city's sewer system owing to a blockage. This phenomenon can happen due to a number of reasons like:
Old sewage system
The first reason is perhaps the most common: a deteriorating sewage system in your home/office. This occurs mostly in old establishments that were constructed a long time ago, where the sewage system was not upgraded with time.
Sewage lines overload
In some cases, it is often observed that the sewers start overflowing and flooding, especially after a recent case of storm/flood. This happens due to the sewage and stormwater flowing in the same pipe, causing pipeline overload.
Cracks & faults in the pipelines
Over a period of time, pipelines can develop dents and cracks due to a number of reasons. From intruding tree roots to rusting, the causes can be many. Hence, it is essential to regularly keep a check for any kind of sewage backup in your establishments.
Sewage Clean-up Service in Perth
Sewage Clean-up Service in Bunbury
Sewage Clean-up Service in Albany
Sewage Clean-up Service in Denmark
Sewage Clean-up Service in Kalgoorlie
Sewage Clean-up Service in Mandurah
Sewage Clean-up Service in Esperance
Sewage Clean-up Service in Margaret River
Sewage Clean-up Service in Busselton