As a part of mould inspection, our expert team of trained professionals identify and locate where the mould is growing inside your property with the help of air quality monitors and surface sampling equipment. To add to this, our technicians have the option of thermal imaging to detect hidden mould growth to ensure a proper analysis is drawn.
Once the mould inspection is done, our technicians begin with the process of removing mould and preventing any prospective regrowth - this is known as mould remediation. As all our technicians are IICRC certified, we ensure industry-grade equipment and processes are used to completely eliminate mould in your property.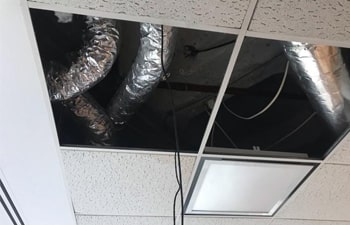 What does mould remediation include?
Generally, the mould removal process starts with isolating the affected area with plastic sheets to limit any further growth
Our technicians then start the process by scrubbing and scraping surfaces and removing any kinds of furniture that have been affected by mould
We then proceed to disinfect the area with an EPA-approved biocide
After all the mould is cleaned and removed, we dispose of the mould in sealed containers as per approved standards
Lastly, to prevent regrowth, our technicians spray the entire area with washing agents
What are some common signs of mould growth?
Any early signs of throat or eye irritation, nasal congestion, any kinds of breathing issues, coughing or respiratory issues are warning signals for mould growth. Especially if your area has been affected by flood or water damage recently, you should not hold back from reaching out to us.
We here at GSB Flood Master specialise in mould inspection & remediation as a part of our expertise in emergency repair services. If you suspect any traces of mould growth in your private or business establishments, especially after an instance of water or flood damage, give us a call for an immediate and prompt response!
Mould Inspection & Remediation Service in Perth
Mould Inspection & Remediation Service in Bunbury
Mould Inspection & Remediation Service in Albany
Mould Inspection & Remediation Service in Denmark
Mould Inspection & Remediation Service in Kalgoorlie
Mould Inspection & Remediation Service in Mandurah
Mould Inspection & Remediation Service in Esperance
Mould Inspection & Remediation Service in Margaret River
Mould Inspection & Remediation Service in Busselton