Floods are the primary cause of water damage to a property. They can likewise be devastating for elevated buildings. The very nature of these multi-storey buildings makes them especially unsafe against flooding brought about by the extreme natural environment.
While most of the constituents of the building structure are well above the ground, the truth is that crucial systems of multi-storey structures, including boilers, lifts, generators and submersible pumps, are all located well beneath the ground, and this is where most of the water damage usually happens in such buildings.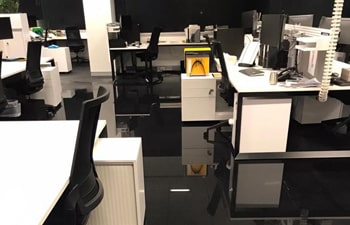 How do you safeguard yourself against multi-storey building flooding?
While most flooding situations come without warning, it is possible that you can minimise the extent of the damage. You can do so in the following ways:
First and foremost, know the flood risk of your area
Have a proper understanding of emergency exits in multi-storey structures
Protect critical electric equipment
Create an emergency plan for your neighbourhood and follow it
Insure yourself against water damage
Reach out to us for any kind of assistance for 24/7 emergency services
Why seek professional multi-storey building flood service?
Storm damage can often be overwhelming, and we at GSB Flood Master ensure that you don't have to recover alone. Our experienced storm damage technicians are available round-the-clock to help you repair your space immediately after a storm to ensure that you can return to your everyday life as soon as possible.
Preventative measures discussed above can also help reduce and, in some cases, eliminate the damage caused by hurricanes, tornadoes, floods, hail and thunderstorms. If you are one of those affected by these, seek immediate help from our IICRC certified team now.
Multi-storey Building Flood Service in Perth
Multi-storey Building Flood Service in Bunbury
Multi-storey Building Flood Service in Albany
Multi-storey Building Flood Service in Denmark
Multi-storey Building Flood Service in Kalgoorlie
Multi-storey Building Flood Service in Mandurah
Multi-storey Building Flood Service in Esperance
Multi-storey Building Flood Service in Margaret River
Multi-storey Building Flood Service in Busselton