In business and residential settlements across the world, water damage and flood damage are two of the most frequent emergency damage sources. Burst pipes, toilet overflows, damaged sewers, rain, and occasionally fire suppression byproducts are the most frequent contributing factors to water damage. The opposite is true for flood damage, which is typically brought on by frenzied thunderstorms or floods in towns that are close to large bodies of water.

The majority of the time, if water and flood damage are not addressed, they can lead to even more significant issues including the building's structure deteriorating, the growth of mould, and interference with the electrical systems inside the property. Therefore, you must choose GSB Flood Master's industry-leading water and flood damage restoration.

We at GSB Flood Master offer water and flood damage restoration services in Kiara. Our company is dependable and preserves a solid relationship with our clients. We unquestionably offer the best services in Kiara. In many ways, we differ from other businesses. We are proud of our character and are always willing to help when things become tough.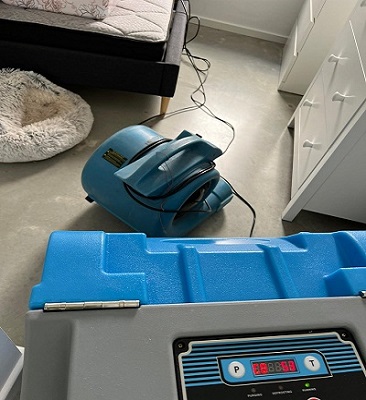 What is the process of restoration carried out by professionals in our company?

Inspection
Our team of professionals arrives at your affected site and inspects the severity of harm that occurred. We also analyze the capacity of moisture accumulated at the site and the intensity of the harm it has produced. The damage will then be categorized from Class I to Class IV. Our experts will also pinpoint the location of the impacted area and differentiate them according to their severity.
Water Removal
The next action is to clear the area of any standing water that has accumulated. This is carried out to stop further destruction from being done to the objects. We employ submersible pumps and vacuums that are accepted throughout the industry.

Dehumidification and Drying
Additionally, the site is being dried. This stage involves sucking up all of the liquid that has been retained on the ground. Restoring the spot will be simpler on a dry, clean surface. To prevent more wetness, humidity is eliminated.

Cleaning and sanitizing
Our procedure is made simpler and more effective thanks to the site's cleanup. Attentiveness and a strong work ethic are needed at this level. To achieve both wet and dry cleaning at the same time, we choose abrasive and immersion cleaning. Deep sanitization using features that have been scientifically verified is ensured by our experts. This action guarantees the entire safety of both residents and our employees. Additionally, it shields us against several illnesses and microbial interactions.

Restoration
Finally, the last stage has been reached. We put your houses, businesses, and properties back in the condition that they were in before. There would not be any different. We create a cost-of-repairs document based on the severity of the harm that was caused. After that, we send it to our clients.
Why should you choose us?
We at GSB Flood Master have been providing water and flood damage restoration services in Kiara for years. We understand that when someone needs help after a disaster restoring their property, they need to rely on professionals with extensive expertise. We are the top service company in Australia.

Our firm is spread over several areas. We have IICRC-certified technicians. We have equipment of the highest caliber. Right away, we respond to our customer's questions and issues. Additionally, we develop a 24-hour availability policy. Please get in touch with our company if you reside in Kiara and have any questions or concerns. We will reply to consumers right away.
Get an instant quote