Water can cause extensive damage to your house or place of business, from little leaks to major floods. We at GSB Flood Master can find water damage in walls or ceilings that you can't see. We help you avoid long-term disasters by resolving problems as soon as they arise, giving your building a brand-new appearance.

Huge damage may result from a storm or flood. For your property, it is one of the worst disasters ever. specifically, if your residence or place of business is close to the catchment area. Large-scale damage to homes and other structures can result from excessive water.

Calling your GSB Flood Master professionals in Goode Beach makes the most sense whether you're dealing with water and flood damage caused by a burst pipe or a flash flood brought on by bad weather. Contact us as soon as possible for water and flood damage restoration after the damage has occurred in your city Goode Beach.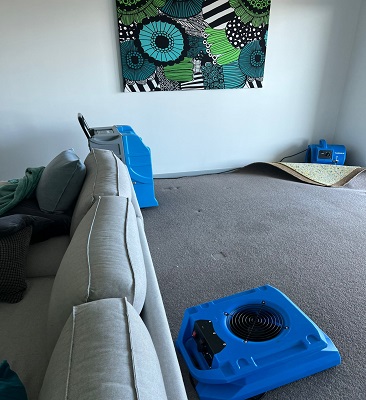 What Restoration Procedures Are Used By GSB Flood Master?
This procedure is completed in five parts, starting with the examination and ending with the restoration of your property.
The procedure starts with an examination, during which our professionals arrive at your home or place of business within a short time after being notified. They then begin by assessing the damage and classifying it as small or significant before beginning to look for solutions.
To stop the growth of bacteria, mould, and other disease-causing agents, the water must be removed in the second stage using highly industrialized machinery like submersible pumps and vacuums.
Dehumidifying your property and cherished things is the third step since residual moisture harms them. Therefore, automated dehumidifiers are used by our experts to completely dry your property.
Our professionals clean both dry and wet your precious possessions and property in the fourth stage, which is followed by sanitization. Sanitization is required after cleaning to eradicate bacteria and viruses.
The final phase of the process is the restoration of your property, during which our experts ensure that all losses suffered during the demolition are rebuilt following the severity of the damage.
What Makes You Choose Us?
With our services available 24 hours a day, seven days a week, GSB Flood Master is a top-rated business that strives to make your life easier during a challenging time in Goode Beach. We also answer right away when you try to contact us. Our staff members are IICRC-certified, highly skilled, well-trained, and well-versed to tackle your problems.

You have the fantastic option of having our packages adapted to your needs. For dealing with water and flood damage, our experts employ a variety of highly industrialized tools like submersible pumps, vacuums, and dehumidifiers. With our many services, we hope to contribute to your comfort and quiet life.

You can rely on us to provide you with the best water and flood damage restoration services Goode Beach has to offer if you choose to work with us on this important project. To make dealing with us as easy as possible, we take care of all the requirements and deal directly with the insurance companies. As a result, you save yourself a lot of hassle and inconvenience.