Water and flood damage are two of the most prevalent sources of emergency damage to business and residential settlements across the world. Moisture may swiftly penetrate drywall and other materials. If it absorbs too deeply, it may endanger the structural integrity of your home. Therefore, taking immediate action is crucial.

We should leave this task to a professional because removing this standing water might be quite complex. More than simply cleaning up the visible water is involved in water damage restoration. Throughout your house, several porous materials may easily absorb extra moisture. Most often, ignoring water and flood damage may result in even more severe problems, such as the building's structure decaying, the growth of mould, and problems with the electrical systems inside the premises. Therefore, it is advisable to utilize professional assistance in times of calamities.

We at GSB Flood Master offer water and flood damage restoration services in Embleton. We have expertise in restoring residences, structures, and so on to their prior condition. Our company uses top-notch materials and develops new methods. We only employ trained professionals in Embleton, so we can help you in every manner we can and make you satisfied.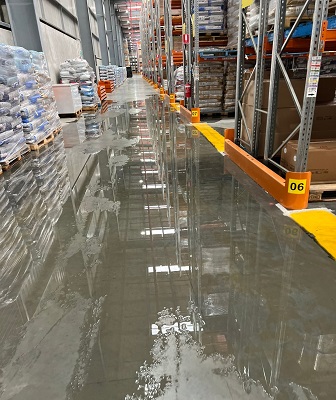 What is the procedure of restoration carried out by the company?
We thoroughly restore your property step by step by following this procedure-

Inspection
Our highly qualified experts will visit your site to evaluate the damage to your assets and property. After the analysis, we start repairing the broken areas. Class I to Class IV are the different damage classes. Class I is the least significant, while Class IV is the most important. Based on the severity of the damage, we estimate the cost of repairs.
Water Removal
The water must then be completely removed from the area to prevent future damage to the property. We make use of top-notch tools like submersible pumps. We further use an industrial vacuum pump to remove the moisture. Mold and fungus won't be able to develop if moisture is removed.

Dehumidification and Drying
Drying is done to ensure keeping the site dry and moving things smoothly. It is necessary to keep the place sanitary and free of various organisms.

Cleaning and sanitizing
Once all the water has dried, we start the expert cleaning process. To achieve both dry and wet cleaning simultaneously, we ensure abrasive and immersive cleaning techniques. Our professionals will make sure that comprehensive sanitization is carried out concurrently in order to safeguard the health and safety of everyone who lives or works in the area.

Restoration
Your valuables will be returned as a consequence of our work. No matter how serious the issue is, we must restore your item to its original state.
Why should you choose us?
We at GSB Flood Master provide the best water and flood damage restoration service in Embleton in times of natural calamities. We value the fact that you can rely on the professionals at GSB Flood Master to help you restore your homes, buildings, and places of business in times of crisis. We are aware of the necessity of being swift in such circumstances and how critical it is to respond to unplanned calamities.

When it comes to reducing damage and getting the restoration process started as soon as possible, time is one of the most essential issues in water damage restoration. Therefore, we ensure a one-hour response time for all of our services. You're welcome to have faith in us. We work hard all hours of the day and night to make you get rid of your problems. We value your questions and look forward to helping you with your issues.
Get an instant quote