It's normal to be worried when your home sustains flood damage or another sort of water incursion, but it's also crucial to remember that you need to take action as soon as you can. The longer you wait, the more damage will be done, and the water cleanup will take longer.

Your home's structural stability may be impacted by water damage. Additionally, there may be a considerable health risk. Standing water quickly transforms into a haven for mould and bacteria, which can result in a variety of issues, including serious respiratory illnesses.

It could be challenging to clean up water damage. The level of repair required varies based on the kind and severity of the damage that occurred and can range from simple vacuuming and drying to involved reconstruction projects. A specialist should perform this work because it could be rather tough to remove this water.

Our company GSB Flood Master provides water and flood damage restoration services in Dalkeith. We are the leading company in Australia and provide a variety of services. Our company is dispersed over several places. We deliver over 10 services right to your door. Because we have a reliable connection, our business and clients enjoy a special relationship.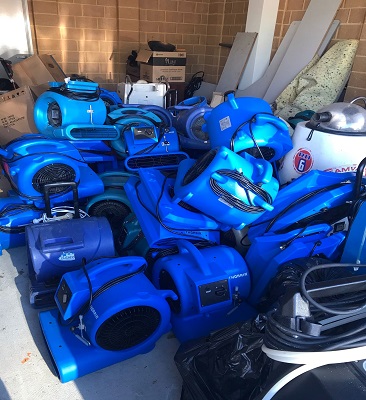 What is the procedure of restoration carried out by professionals?

Inspection
When our specialists arrive, they will first assess the severity of the water damage and its consequences on your home. The categories will be Class 1 (Minor) to Class 4 (Extensive). Our specialists will pinpoint all of the different impact zones and classify them according to the level of devastation.
Water Removal
The following action is to eliminate all standing water from the area to prevent further harm to it. We would do this step utilizing submersible pumps and vacuums, which are common in the industry, to prevent the formation of mould.

Dehumidifying and Drying
Once we have thoroughly eliminated all of the moisture from the area, we start by dehumidifying and drying the afflicted area. This allows for the complete extraction of any moisture that may have been absorbed during the damage and was unable to be eliminated during the extraction process.

Cleaning and sanitizing
Once every drop of wetness has dried, we begin the thorough cleaning procedure. We employ abrasive and immersion cleaning methods to accomplish simultaneous dry and wet cleaning. Our professionals will make sure that comprehensive sanitization is carried out concurrently to safeguard the health and safety of everyone who lives or works in the area.

Restoration
The final stage is to get your house or place of business back to how it was before the destruction. Depending on the severity of the harm, restoration may include minor fixes or extensive reconstruction projects.
Exactly why should you pick us?
We at GSB Flood Master provide water and flood damage restoration services in Dalkeith. We provide a variety of services in numerous Australian regions. Only IICRC-certified technicians are employed by us. All year long, we are reachable every day. We respond to inquiries promptly. We provide service package customization based on your requirements.

Dealing with client concerns and answering their inquiries comes first on our list of priorities. We provide a large variety of tools for many different services. One of the most crucial factors in damage repair is time, which may help to prevent more damage and begin the restoration process right away. For the sake of our client's delight, we promise a one-hour response time on all of our services. If you dwell in Dalkeith, don't be afraid to contact us. Both online and off are ways to reach us.
Request a price quote right away