The scattered outpouring of water here and there, all properties devastated, and the mind stops working in this dreadful scenario to figure out what to do next. You should not be concerned and must leave all your concerns to us because our company is always there to help you throughout the emergency. Floods occur when a region has an excessive number of downpours of rain due to a poor drainage system. It also occurs when rain falls on dry ground.

Flooding is a greater risk for people who live close to lakes. Poor, defective house wiring and localized moisture collection are also causes of water damage. It comes from excessive moisture accumulation. When it rains unexpectedly, homes, cars, and electrical equipment are all susceptible to severe water damage. Water damage can be caused by leaking pipes, broken pipes, plumbing issues, and other issues. Water and flood damage restoration is a specialist service that removes water from your property and returns it to its habitable, pre-damaged state.

We provide water and flood damage restoration services in Carramar through our firm, GSB Flood Master. To restore homes, places of business and other buildings is something we value highly. Our business has a team of IICRC-certified technicians. Any inquiries or complaints from clients can be sent to us at any time. Our team of qualified specialists delivers the greatest restoration services.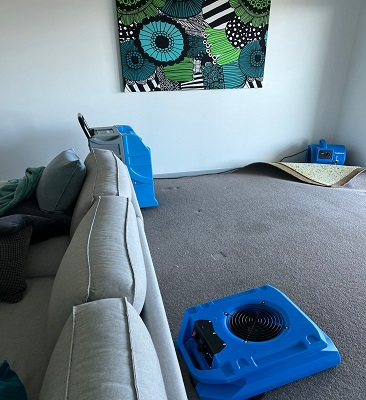 What kind of restoration work opts at our business?

Inspection
Upon their arrival, our personnel will inspect to ascertain the degree of the damage. We will look at how much water has accumulated as well as the harm it has done. We offer the best restoration services in Carramar, without a doubt. After that, depending on the investigation, we provide a paper outlining the cost of repairs.
Water Removal
After being gathered at the site, water is next removed. An essential first step is to stop further property damage. We employ top-notch equipment, such as submersible pumps. This procedure is used to stop the growth of mould and fungus. It will also stop germs from spreading from people to other people.

Dehumidifying and Drying
After removing all the moisture from the region, we start by dehumidifying and drying the damaged area. Any moisture that may have been absorbed is completely drained out by doing this.

Cleaning and Sanitization
The area is cleaned up to make the restoration process easier. We provide our customers with the consideration and patience that are necessary for this operation. The area is then meticulously cleaned to ensure real public health for both residents and workers. It ensures there will not be any contact with contagious bacteria.

Restoration
The most anticipated step is restoration. Your belongings are restored to their prior state after destruction. After that, our staff gives the customers a page with all the repair prices broken down by the gravity of the damage.
What makes GSB Flood Master a good choice?
In Carramar, our firm, GSB Flood Master, offers water and flood damage restoration services. We are Australia's top service provider, offering excellent service at a fair price. We put getting the job done ahead of bragging about our skills. Every life on our earth needs support when they are depressed. We are aware that property restoration calls for top-notch tools and knowledgeable, experienced professionals.

You can have faith in us, and we go above and beyond to keep our clients' trust. Our company offers specialized service bundles. We promise to respond to any of your questions and issues right away. We are always accessible. Our business is eager to assist you when you need it. Please get in touch with us right away.
Get an instant quote