Numerous natural disasters have occurred throughout history, but floods have been the most damaging. It is a result of heavy rainfall from reservoirs or heavy downpours in areas without an effective drainage system. As water builds up, the surroundings are harmed. Fortunately, certain things can be fixed, and the sooner you act, the more likely it is that your property will not sustain further harm.

Plumbing issues, burst pipes, backed-up drains, and flooded basements are just a few of the many potential causes of water damage. Whether water enters your house from flooding or dripping faucets, germs and mould spores can flourish in the additional moisture.

Homeowners must spend money on water and flood damage restoration, not just because they lose expensive items like electronics and furniture but also because mould and germs constitute a health concern. Contact us at GSB Flood Master right once if you are coping with water and flood damage. We'll take care of everything and complete the task quickly without doing any further harm.

We at GSB Flood Master provide reliable water and flood damage restoration services in Brentwood. We are professionals at restoring your buildings, houses, workplaces, and other structures so that you may do your work quietly and live happily in the future. We can fix the damage flawlessly with the greatest technology and top-notch tools. We welcome any client questions and issues around the clock. In Brentwood, we only employ licensed professionals who can do their duties effectively.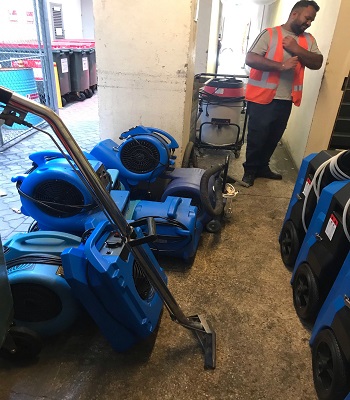 What is the procedure of restoration carried out by professionals?

Inspection
When our experts get there, they will start by determining the extent of the water harm and its effects on your property. Classification will range from Class 1 (Minor) to Class 4 (Extensive). Our experts will pinpoint all the various impact zones and categorize them based on the degree of destruction.
Water Removal
To stop further destruction to the property, the next step is to remove all standing water. We would do this step utilizing submersible pumps and vacuums, which are common in the industry, to prevent the formation of mould.

Dehumidifying and Drying
We begin by dehumidifying and drying the affected area once we have completely removed all of the moisture from the site. Doing this removes any moisture that may have been absorbed during the damage and cannot otherwise be removed during the extraction procedure is sucked out.

Cleaning and sanitizing
Once all the moisture has dried, we start the expert cleaning process. We use abrasive and immersion cleaning techniques to simultaneously achieve dry and wet cleaning. Our professionals will make sure that comprehensive sanitization is carried out concurrently to safeguard the health and safety of everyone who lives or works in the area.

Restoration
The final stage is to get your house or place of business back to how it was before the damage. Restoration might take the form of straightforward repairs or major rebuilding initiatives, depending on the extent of the harm caused.
Why should you choose us?
We at GSB Flood Master provide water and flood damage restoration in Brentwood. In several Australian areas, we provide a wide variety of services. Our techs all hold IICRC certifications. We are accessible around the clock. Our customer service team promptly addresses your questions. To better suit your needs, we may alter our service packages.
Our primary goal is to address consumer issues and give information on their questions. For a wide range of services, we have a choice of equipment. The ability to respond quickly to stop more damage and begin the restoration process is one of the most important aspects of damage repair. All our services come with a one-hour response time guarantee to ensure client satisfaction. Please get in touch with us if you reside in Brentwood. You can contact us both locally and online.
Get an instant quote