Flooding and other water damage can be unexpected, and inflict destruction on your property. If you left unprocessed, the excess water can bring health issues and create structural damage. Rapid action is required to rescue your home or office. Whether the offender is an overloaded washing machine, sewage backup, a broken pipeline, faulty household appliances, or just rainwater, a house flood could be catastrophic. When it comes to your city Bentley. So donít bother to contact us immediately at GSB Flood Master.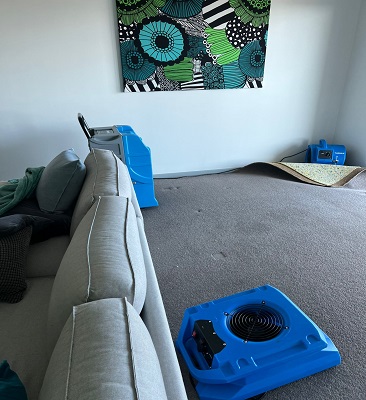 How Is The Process Of Restoration Carried Out By GSB Flood Master?
The process of water and flood damage restoration is carried out in 5 specific steps by our well-skilled professionals with a wide range of highly industrialized equipment.
Our first step is to inspect your house or office where destruction has occurred, then our professionals make a list of damage that occurred and file them together ranging from minor damage to extensive damage and then start their work according to it.
Our second step is the removal of water to avoid extensive destruction to your property and prized possessions, so our professionals use highly industrialized submersible pumps and vacuums to extract water from your property.
Our third step is to dehumidify your property or prized possessions to prevent the formation of bacteria and mould, so our experts use automated dehumidifiers to suck all the left-out moisture and completely dry your property.
Our fourth step is cleaning and sanitization, our professionals make sure to clean each corner and all your valuables with both wet and dry cleaning, after this sanitization is done to your property to kill all the harmful disease-causing agents and to make the environment suitable for living.
Our last but not the least step is to restore all the losses that have occurred to your home or office or your valuables by categorizing them according to the harm that occurred and by rebuilding them through various ways and means.
These were the few steps in which our experts restore your property and prized possessions and try to rebuild them as they were before the destruction.
Why choose us?
GSB Flood Master is known for its huge range of effective and efficient services which they provide you 24/7, 365 days with quick response. GSB Flood Master owns highly skilled, well-trained, and well-behaved professionals to deal with you in your difficult times and to fulfill all your needs according to your requirements. Our professionals use a wide range of highly automated equipment like submersible pumps, vacuums, and dehumidifiers to restore your property from water and flood damage. GSB Flood Master desire to work for all kinds of water and flood damage restoration services to help their customers in various means and ways in their hardships and to provide them a favourable and peaceful environment to live as they were living before the destruction occurred. So, if you are suffering from any type of water or flooding issues and do connect with GSB Flood Master for effective services in Bentley.
Reach out to us immediately