Australia is highly prone to floods. In business and residential settlements around the world, water damage and flood damage are two of the most frequent emergency damage causes. The most frequent contributing causes of water damage are burst pipes, toilet overflows, broken sewers, rain, and occasionally a byproduct of putting out fires. The opposite is true for flood damage, which is typically brought on by frenzied thunderstorms or floods in towns that are close to large bodies of water.

Water damage occurs due to several factors which include; clogging of gutters, faulty appliances, tank overflow, and many more. As a result, mould formation takes place on doors, windows, and wood flooring. Metals may also experience rusting and begin to corrode. In the beginning, it may appear only a leaking ceiling or a swelled-up moisture wall, but deep inside, there is a havoc of moisture damage.

To get rid of all these terrible consequences, it is advisable to call a team of professionals to help in this hour of suffering and restore your home, offices, and building back to normal. Our company, GSB Flood Master offers water and flood damage restoration services in Bellevue.

Our top priorities are to evaluate the harm done to your property, reduce the severity of the harm, and return your surroundings to their pre-damage form. We step by step treat the harm caused and eventually restore the site. So, if you reside in Bellevue, do contact us to get rid of the damage. We are 365 days available.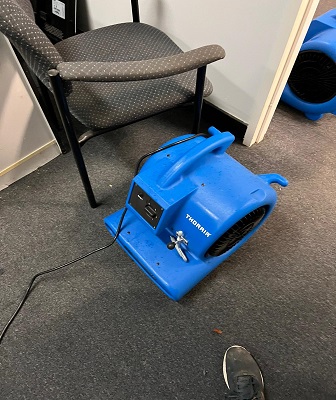 What is the procedure carried out by the professionals at GSB Flood Master?
There are several steps carried out to ensure proper restoration which include;

Inspection
Our team arrives at the site. We inspect the harm caused to the site. Based on the severity, we categorize it into four classes. They comprise from minor to extensive. We also analyze the volume of water accumulated at the site. A sheet is then prepared to comprise the cost of repairs based on the severity of the harm caused.
Water Removal
After all the inspection and survey the team has conducted, it is time to extract the moisture absorbed. This step is acted to prevent further deterioration of the site. Our company uses industry-standard submersible pumps and vacuums to prevent any further mold formation.

Dehumidifying and Drying
As soon as all the moisture content has been removed, we proceed with the dehumidifying and drying step. We ensure complete drying of the ground, walls, windows, and where ever the site has been harmed. Humidity is removed to restrict the moisture content.

Cleaning and sanitizing
Following the step of drying, our team starts with cleaning the site. We begin with professional cleaning. We indulge in abrasive as well as immersive cleaning to make sure dry and wet cleaning simultaneously. Our experts then make certain of proper sanitization in every corner of the site. This is done to make sure safety of the residents as well as the workers.

Restoration
Finally, the most awaited step is here. We restore your home/office as it was back. this can vary from minor to extensive construction.
Why should you choose GSB Flood Master?
We are Australia's leading service provider in times of difficulty. GSB Flood Master offers water and flood damage restoration services in Bellevue. We hire only IICRC-certified technicians. We are 24/7 available for all customer queries and questions. We offer customizable service packages as per your need and budget. We own a high variety of equipment. We have a record of immediate response. our utmost goal is to make our customers happy and remove them from distress.
Get an instant quote