A flood is a type of natural catastrophe that happens when there is too much water in one place at one time. It is the most frequent natural disaster. It has a very harmful effect, harming both communities and people's lives. The devastation caused by the flood has a significant impact on farmers. Most people are aware that floods can result in loss of life, property damage, destruction of crops and livestock, as well as worsening of health due to microbiological infections.

Water damage is a result of water buildup in some regions. Water damage is quite destructive. It can have numerous negative effects, such as broken or leaky pipes, plumbing problems, and many more. It is advisable to contact the professional staff at GSB Flood Master in Cottesloe to help you restore your property to its pre-loss condition during this difficult period.

In Cottesloe, we at GSB Flood Master provide water and flood damage restoration services. We specify restoring homes, buildings, and so on to their original state. We have expertise in water and flood damage restoration using high-quality products and learning new techniques. We exclusively hire qualified specialists in Cottesloe to assist you in every way possible and to make you happy. We make every effort to assist our customers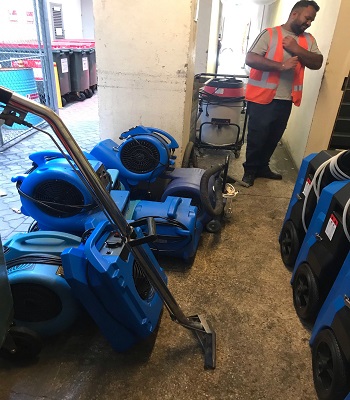 What is the procedure of Restoration carried out by an experienced GSB Flood Master?
We thoroughly restore your property step by step.

Inspection
Our highly skilled team will come to your location to assess the damage to your property and valuables. Following the analysis, we begin fixing the affected sections. Damage levels range from Class I to Class IV. Class I is the most minor, whilst Class IV is the most substantial. We estimate the cost of repairs based on the degree of the damage.
Water Removal
The following step is to remove all the water from the location so that it cannot harm the property further. We use high-quality equipment, such as submersible pumps. For sucking the moisture, we additionally employ an industrial vacuum pump. Moisture removal will help prevent the growth of moulds and fungi.

Dehumidification and Drying
Drying is an essential part of keeping the area clean and free of different organisms. This is done to keep the site dry and things moving smoothly.

Cleaning and Sanitization
Disinfection occurs following the completion of the entire dehumidification and drying procedure. Abrasive and attractive cleaning are both necessary. Sanitization protects both those who are living out there and those who are working outside are protected by it.

Restoration
Our final result is the restoration of your possessions. We must return your property to its original condition, regardless of how severe the situation is.
Why should you choose us?
We at GSB Flood Master have always been at the service of water and flood damage restoration in Cottesloe in times of natural calamities. We value the fact that you can always rely on our professionals at GSB Flood Master for help recovering your homes, buildings, and workplaces in times of disaster.

We are aware of how crucial it is to respond to unanticipated calamities and recognize the importance of speed in such circumstances. Time is one of the most important considerations in water damage restoration when it comes to limiting the damage and getting the restoration process started as soon as possible. Therefore, we guarantee a one-hour response time for all of our services. You may put your trust in us. We put forth a lot of effort, day, and night, to make you happy. We appreciate your inquiries and look forward to solving your problems.
Get an instant quote