While it's normal to experience anxiety when your property sustains flood damage or similar water incursion, it's also crucial to remember that you need to take action as soon as you can. The damage will worsen and the time it takes to clear up the water will increase the longer you wait.

Your home's structural integrity might be affected by water damage. Additionally, it might be a significant health risk. It doesn't take much time for mould and bacteria to grow in standing water; these pathogens can lead to various issues as well as serious respiratory ailments.

Cleaning up after water damage may be difficult. The degree of restoration necessary varies depending on the type and extent of the harm that occurred and can range from straightforward vacuuming and drying to extensive reconstruction projects. It might be quite difficult to remove this water, thus a professional should do this task.

Our company GSB Flood Master offers water and flood damage restoration service in Churchlands. We are Australia's top business offering a wide range of services. We are spread over numerous areas. At your door, we provide ten-plus services. The relationship between our business and clients is unique since we have a trustworthy connection.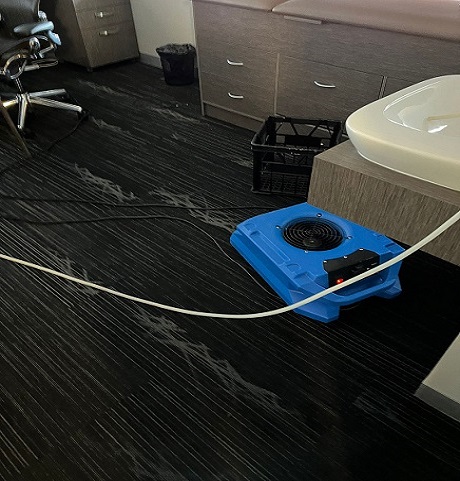 What is the process of Restoration carried out by professionals at GSB Flood Master?

Inspection
When our experts get there, they'll start by determining the extent of the water harm and its effects on your property. Class 1 (Minor) through Class 4(Extensive), will be categorized. All of the various impact zones will be located by our experts, who will also categorize them based on the degree of destruction.
Water removal
To stop additional destruction to the property, the next step is to remove all standing water. To avoid the growth of mould, we would do this step using submersible pumps and vacuums that are standard in the business.

Dehumidifying & Drying
We begin by dehumidifying and drying the affected area once we have completely removed all of the moisture from the area. By doing this, any moisture that may have been absorbed during the damage and cannot otherwise be removed during the extraction procedure is entirely sucked out.

Cleaning & Sanitising
Once all the moisture has dried, we start the expert cleaning process. To achieve both dry and wet cleaning at the same time, we use abrasive and immersion cleaning techniques. To protect the health and safety of everyone who lives or works nearby, our specialists will make sure that deep sanitization is performed at the same time.

Restoration
The final stage is to get your house or place of business back to how it was before the damage. Restoration might take the form of straightforward repairs or major rebuilding initiatives, depending on the extent of the damage.
Why should you choose us?
We at GSB Flood Master provide water and flood damage restoration in Churchlands. Throughout several Australian locations, we provide a wide range of services. Only IICRC-certified technicians are hired by us. We are accessible every day, all year round. We react quickly to requests. Depending on your needs, we provide service package customization.

Our top priority is to address client issues and respond to their questions. For many different services, we have a wide range of equipment. Time is one of the most important variables in damage repair to limit the damage and begin the restoration process as soon as possible. A one-hour response time guarantee is included with all of our services for our customerís satisfaction. Do not hesitate to get in touch with us if you reside in Bedfordale. We are accessible both online and offline.
Get an instant quote