There are two sides to a coin. Water may look harmless but it is terrible when excessive on the other side. It destroys the environment too. Flood is one the disastrous natural calamities. Australia is highly prone to floods. It doesn't take much time for mould and bacteria to grow in standing water; these pathogens can lead to various issues as well as serious respiratory ailments.

People who live near the shore are more vulnerable to floods. Water damage occurs due to moisture buildup in areas, and faulty, malfunctioning household wires. One such example of water damage is a refrigerator leak. Excessive accumulation of moisture leads to water damage. Flood damage restoration is a special service that removes water from your property and returns it to its habitable, pre-damaged state.

In this hour of complication, there must be a company that can fix up your problems in a second. Our company, GSB Flood Master offers services in water and flood damage restoration in Aveley. We are reliable and maintain a healthy bond with our customers. Without a doubt, we provide the best services in Aveley. We are unique from other companies in many terms. We take pride in our character and are prominent to assist in difficulties. You can approach us without any hesitation.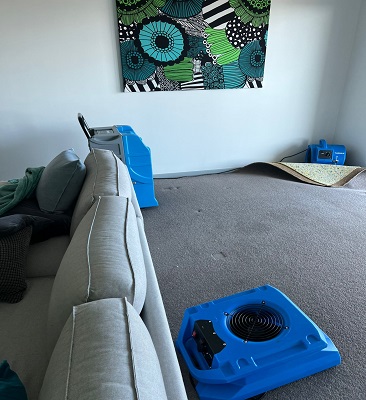 What is the process of restoration carried out by experienced professionals at GSB Flood Master?
1. Inspection - Our team of professionals arrives at your damaged site and inspects the severity of harm that occurred. We also analyze the capacity of moisture accumulated at the site and the intensity of the damage it has produced. We will then classify the damage from Class I to Class IV. Our experts will also pinpoint the location of the impacted area and differentiate them according to their damage level.
2. Water Removal - The next step is to remove the standing water which has accumulated at the site. This is done to avoid any further harm to the belongings. Our company uses industry-standard submersible pumps and vacuums.
3. Dehumidifying and Drying - Furthermore, drying of the site takes place. This step is to suck out every possible drop of moisture retained on the ground. A clean and dry ground will be easier to restore the site. Humidity is removed to avoid further moisture.
4. Cleaning - The site is cleaned up so that our process becomes easier and more efficient. This level requires keen determination and attentiveness. We prefer abrasive as well as immersive cleaning to ensure wet and dry cleaning simultaneously.
5. Sanitization - Our professionals ensure deep sanitization with scientifically proven qualities in it. This step ensures the complete safety of both residents as well as our workers. It also protects us from microbial contact and several diseases.
6. Restoration - Ultimately, the final step has come. We restore your homes/offices/properties to the same state as it was in the past. There would be no difference seen. Depending upon the extremity of the harm that occurred, we prepare a sheet of the cost of repairs. We then submit it to our consumers.
Why should you choose us?
GSB Flood Master has been providing water and flood damage restoration services in Aveley for years. We acknowledge that whenever an individual needs assistance in the restoration of their properties in times of disaster, you need to count on experts having years of experience. We are Australiaís leading service provider. We are situated in many regions. We own IICRC-certified technicians. We possess high-quality equipment. We have an immediate response to our customerís queries and problems. We also come up with 24/7 availability.
Get in touch with us