Natural calamities have always been a stumbling block in our lives for centuries. They destruct everyone's lives. One such complicated catastrophe is named flood. Flood has a record of destroying one's life including properties, residence, and belongings, and even taking closed ones' lives. Flood occurs due to excessive downpours of rainfall in a region due to a lack of a proper drainage system. It also occurs due to rainfall on dry land. Moreover, it also takes place due to the melting of glaciers/snow. Severe damage causes mass destruction.

Furthermore, people face several power cuts due to the damage. it damages the environment and causes soil erosion. Water damage occurs due to bursting of pipes, leaking, and air conditioning issues. In such times of distress, there should be a company on which citizens can rely to restore their properties to normal.

Our company, GSB Flood Master put forward water and flood damage restoration services in Atwell. We have expertise in water extraction and harm repair services. We are honored of restoring properties/belongings/offices/homes. Our company has a team of IICRC-certified technicians. We are open 24/7 to all customer queries and issues. We hire certified technicians which can do their best in restoration services. We provide the finest services at low rates. If you live in Atwell, do contact us for water and flood damage restoration services.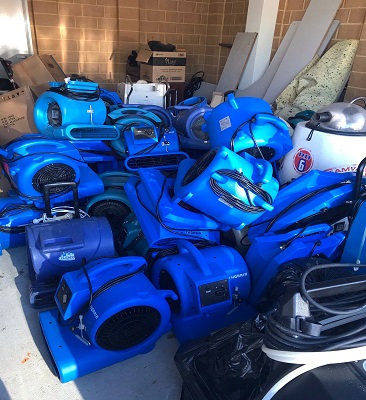 What is the procedure accomplished by skillful professionals at GSB Flood Master?
Inspection- Our team will arrive at your residence and inspect the severity of the damage done. We will also analyze the volume of water accumulated and the damage it has done. Without a doubt, we offer the best restoration services in Atwell. According to inspection, we then prepare a sheet of the cost of repairs.
Water Removal- Secondly, we then extract the water accumulated at the site. It is an important step to avoid further damage to the properties. We use high-standard equipment like submersible pumps. This procedure is done to restrict the growth of mold and fungus. It will also avoid microbial contact with the individuals.
Dehumidifying and drying- Further, the ground is dried up, and humidity is removed so that no dirt remains. We have all the necessary equipment required. All the moisture is sucked up.
Cleaning- The site is cleaned up so that our process becomes easier for restoration. This process requires a lot of attention and tolerance which we offer to our customers.
Sanitization- The area is then sanitized properly to ensure genuine public health for residents as well as workers. This ensures no contact with contagious bacteria and germs.
Restoring- The most awaited process acts. We restore your properties with neatness back to normal. There would be no difference seen in the restored articles.
Why should you choose GSB Flood Master?
We are Australia's leading system supplier with excellent aid at low rates. We focus on results rather than showing off our skills. Every being on this earth needs support in their times of grief. GSB Flood Master is always in your favor for water and flood damage restoration services in Atwell. We understand that for restoration, one needs high-quality equipment and certified professional teams to restore properties.

Without a doubt, you can put complete faith in us and we try our best not to break our customer's trust. We offer doorstep service in Atwell. We offer customizable service packages in our company. We have a record of on-the-spot responses to all your problems and queries. We are 24/7 available. We look forward to assisting you in difficult times. Contact us with no hesitation.
Get an instant quote